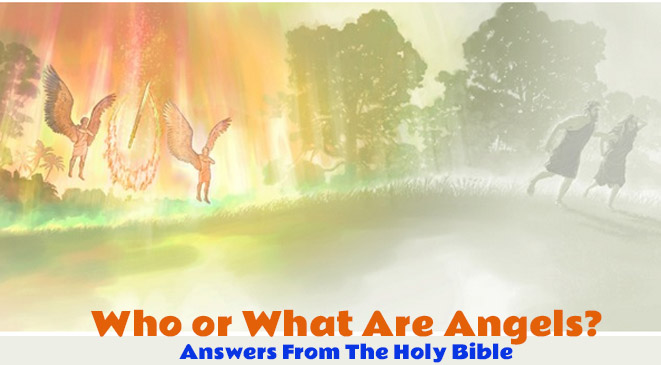 Who are Angels? Answers from the Holy Bible
Angels are beings who have greater power and ability than humans. (2 Peter 2:11) They exist in heaven, or the spirit realm, which is a level of existence higher than the physical universe. (1 Kings 8:27; John 6:38) Thus, they are also referred to as spirits.—1 Kings 22:21; Psalm 18:10.
Where do angels come from?
God created the angels through Jesus, whom the Bible calls "the firstborn of all creation." Describing how God used Jesus in creation, the Bible says: "By means of [Jesus] all other things were created in the heavens and on the earth, the things visible and the things invisible," including the angels. (Colossians 1:13-17) Angels do not marry and reproduce. (Mark 12:25) Instead, each of these "sons of the true God" was individually created.—Job 1:6.
Angels were created in the distant past, before the earth existed. When God created the earth, the angels "began shouting in applause."—Job 38:4-7.
How many angels are there?
The Bible does not give an exact figure, but it does show that their number is vast. For example, a vision given to the apostle John included a glimpse of hundreds of millions of angels.—Revelation 5:11, footnote.
Do angels have individual names and personalities?
Yes. The Bible gives the names of two angels: Michael and Gabriel. (Daniel 12:1; Luke 1:26) * Other angels acknowledged that they had names, but they did not reveal them.—Genesis 32:29; Judges 13:17, 18.
Angels have distinct personalities. They can communicate with one another. (1 Corinthians 13:1) They have thinking ability and are able to compose expressions of praise to God. (Luke 2:13, 14) And they have the freedom to choose between right and wrong, as seen when some of them sinned by joining Satan the Devil in his rebellion against God.—Matthew 25:41; 2 Peter 2:4.
Are there different ranks among angels?
Yes. The angel greatest in both power and authority is Michael, the archangel. (Jude 9; Revelation 12:7) Seraphs are high-ranking angels who are stationed near Jehovah's throne. (Isaiah 6:2, 6) Cherubs form another high-ranking order of angels having special duties. For example, cherubs guarded the entrance to the garden of Eden after Adam and Eve were expelled.—Genesis 3:23, 24.
Read more/ Source – www.jw.org