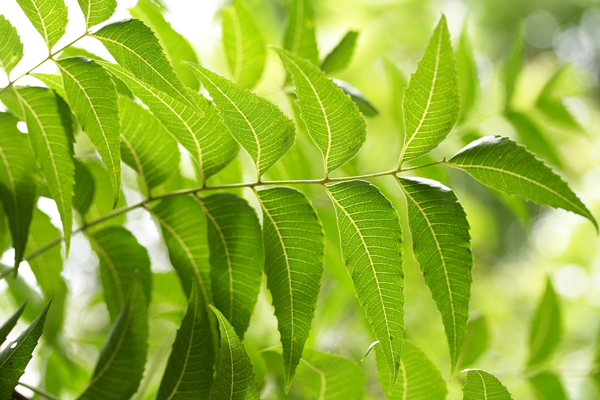 The leaves of Azadirachta Indica, popularly known as Neem, are highly antibacterial. Along with this property, neem leaves are also antiviral and antifungal. This is the reason why these leaves are considered to be the best remedy for skin problems.
Let's take a more detailed look into the benefits which neem leaves have on the skin.
#1. Powerful against Skin Infections
Take a few neem leaves and boil them until they turn soft. The water will start getting a greenish tinge as the neem leaves lose their color. Once you have strained the leaves out of the water, add some of this water to your bath water every day. If you take bath in this water regularly, it will help in reducing infections on the skin.
#2. Great as a Skin Toner
The neem water is effective in preventing wrinkles or age spots from appearing on your face. Moreover, this water is also a great remedy to lighten acne scars. A rose and neem face pack will help you get radiant-looking skin – completely free from oil and grease. For the best result, wash this face pack off by using rose water.
#3. Remedy for Dry Skin
Make a neem pack by taking some neem powder and a small amount of grape seed oil. This face pack is good care of your dry skin problem. Apply it on your face evenly and let it sit for 8 to 10 minutes. Then, rinse the pack off with cold water.
#4. Cure for Skin Pores
Most of us are disgusted with the large pores, whiteheads and blackheads on our faces. A face pack of orange peels and neem leaves is the perfect solution to this irritating problem. Crush orange peels and neem leaves together, and add small amounts of yogurt, soy milk and honey. Apply this face pack at least three times in a week to get the desired results.
Not only your skin, neem leaves are also good for your hair. Applying a mixture of water and neem powder on your scalp and leaving it for an hour before you shampoo it off always work wonders in getting rid of dandruffs. Messaging neem oil on the hair roots not only enhances hair growth but also keeps the scalp healthy.