On the Waterfront (1954) is a classic, award-winning, controversial film directed by Elia Kazan – a part drama and part gangster film. The authentic-looking, powerful film is concerned with the problems of trade unionism, corruption and racketeering. And it is set on New York's oppressive waterfront docks, where dock workers struggled for work, dignity, and to make ends meet under the control of hard-knuckled, mob-run labor unions that would force them to submit to daily 'shape-ups' by cruel hiring bosses.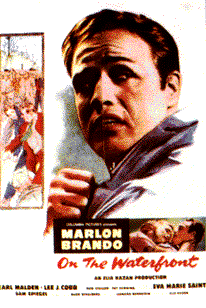 To add realism, it was filmed over 36 days on-location in Hoboken, New Jersey (in the cargo holds of ships, workers' slum dwellings, the bars, the littered alleys, and on the rooftops). And some of the labor boss' chief bodyguards/goons in the film (Abe Simon as Barney, Tony Galento as Truck, and Tami Mauriello as Tullio) were real-life, professional ex-heavyweight boxers. The low-budget film brought a depressing and critical, but much-needed message about society's ills to the forefront, and was hailed by most critics.
The film's morality tale of corruption ends with its ultimate defeat and the saving of the community by a morally-redeemed martyr (a common man with a conscience). With a naturalistic acting style, Marlon Brando portrayed Terry Malloy, an inarticulate, struggling, brutish hero and small-time, washed-up ex-boxer who took a regrettable fall in the ring. Now an errand boy and 'owned' by the union boss, he is unaware of his own personal power. But eventually because of torment over his actions and his realization of new choices in life, he joins forces with a tough-minded, courageous and crusading priest (Malden) and a loving, angelic blonde woman (Saint), a sister of one of the victims, to seek reform and challenge the mob.
Source: www.filmsite.org