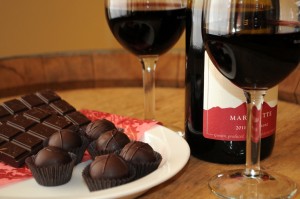 Nothing gives you a bigger kick than having wine with chocolate. Yes the wine and chocolate combination can be safely treasured as the little pleasures of life. A sip of your preferred poison and a morsel of your chocolate, bliss! If you are the foodie with a thing for experimenting and exploring new combinations then welcome to the paradise that offers deadly concoctions of food and drinks in the right proportion. Let's have a look at some of the attractions that a chocolate and wine combination offers.
The ah-mazing chocolate and wine combinations that will sweep you off your feet are:
Image Source: http://yourcity.betterafter50.com
White Chocolate – if you are a chocoholic then white chocolate is surely not your thing because it does not have cocoa but just the fat of it. So the wines that would blend well would be Rosè Port which has the nuances of strawberry. Muscat de Frontignan boasts of tropical fruit flavors that will just taste out of this world when had with white chocolate. A bottle of Vintage Graham's Port tastes like blueberries, so this combination will keep the taste lingering for quite some time.
Milk Chocolate – confused as to how milk chocolate works wonders then let me share with you an interesting fact, ethereal ganache is a mix of cream and chocolate. And trust me when I say this, cream works better with wine than dark chocolates. The wine that is a must-have would be Montilla-Moriles which gives a nice taste of caramel right from the first sip. This indulgence of cheese and sugar is a combination you wouldn't want to miss.
Caramel Chocolate – the combination of caramel chocolates with wine is tricky and have had mixed reviews. A 20 year Tawny Port must top the list, a bottle of Demi-Sec Champagne tastes sweet so if you have a strong sweet tooth then this sugary indulgence of caramel chocolate and sweet champagne is one hell of a combination that will add to your calories. But who cares about calories when you have chocolates and wine for company?
Dark Chocolate – this is one such sweet savory that you just cannot part ways with. Dark chocolate that makes you lick your fingers almost shamelessly even in the middle of the road no matter what your age is. The wines that people would love to sip with a bite of this mouth-watering temptation would be the likes of Late Harvest Zinfandel, Vin Santo and Banyuls, Maury.
Peanut Butter Cups – yeah, peanut butter cups are brilliant with oodles of almonds, peanuts and hazel nuts that fill your mouth. The best wines that will help you wash it down with would be wines that gives a nutty explosion. The wines to enhance the taste of your favorite peanut butter cups would be a bottle of Madeira or even Oloroso Sherry.
So any guesses what is the next big thing to do? Get your favorite goblet, pour in your magic potion and get a plate with an assortment of chocolates that will keep you busy for a while. It is your time to enjoy the most overwhelming experience of your life.