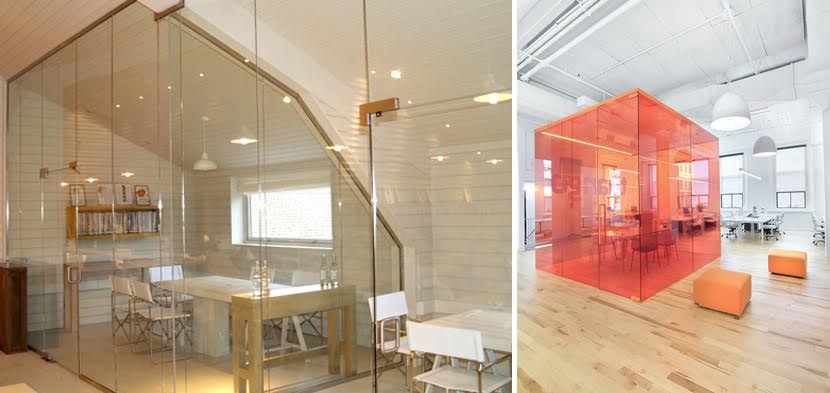 How to Reduce Noise Levels in an Open Office Environment
Today's brand-new workplaces may contain a beautifully designed open layout that inspires collaboration and interaction between employees. These workspaces certainly look unique and have shifted from the norm of enclosed cubicles with grey walls and tasteless furniture – making a strong statement about the company culture and have prospective clients linger for longer.
However, studies show thatan open office has its downsides withreduced productivity and increase stress, resulting in lower job satisfaction and employee morale. To those more introverted, constant interaction and free flow of communication can be stifling to their creativity.Open office environments thrive off of a certain level of collaboration between employees, so the key is to find the perfect balance of noise reducing solutions that make sense for your work environment while maintaining an authentic design that translates well within your work culture.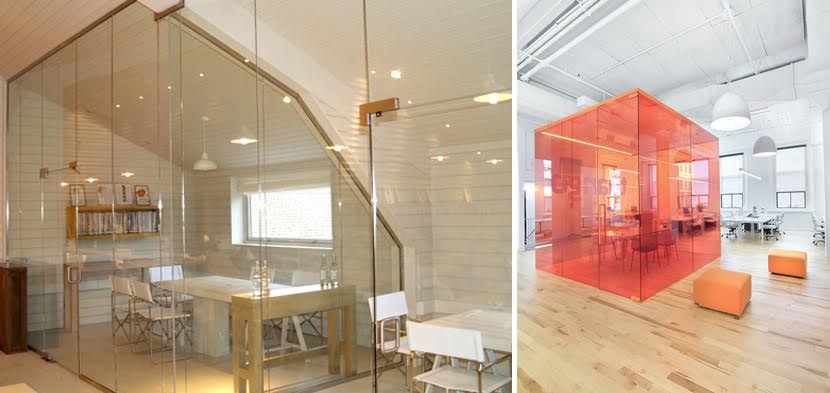 Keep it modern with Frameless Glass Walls –  Image : Trend Glass   | Pinterest 
Glass has become an integral part of office design by providing architects and designers with a sense of flexibility and style.Frameless glass partitioning creates a distinct modern and unspoken message of openness and honesty, maximizing the amount of natural light dispersed into the room whilst at the same time providing a level of privacy sufficient for closed door meetings. When glass partitions are installed in an open layout, they add the benefits of a cubicle office design, with minimum loss of space. The occupant can experience a feeling of security, out of sight and earshot of coworkers without feeling enclosed.The added benefit of being able to approach someone you can see rather than knocking on a closed door also follows.
With privacy, one is able to concentrate on the task at hand without distracting sounds whichleads to greater productivity and less conflict in relationships with colleagues. Glass is extremely durable, and it's a design style that is timeless and never goes off trend.What is amazing about glass walls is how perfectly they fit in any contemporary office which seeks a bright, clean and modern designthat sends a subconscious message that the company is focused on the future.
Folding Glass Walls for Open Spaces
Expensive Life  | Home Décor Singapore 
Folding glass walls are ideal for changing the drab design style of traditional walls and barriers within the office. A folding system also known as bi-fold allows the panels to neatly fold accordion-style and remain 90 degrees to the opening for a wide-open, unobstructed view.
These offer a customized and flexible use of space and stop sound while allowing natural light to enter deeper into the building resulting in less use of artificial lighting. For example, the glass provides a barrier around the meeting areas for times when total concentration is needed away from the humdrum of the rest of the office. This interchangeable use of space encourages teamwork, communication and collaboration; at the same time offering a level of privacy.
Folding glass walls can be placed virtually anywhere in the office, and are accordion style doors which fold either left, right, or are split between middle panels to create a unique opening glass wall. They bring about a dramatic yet modern and innovative feel; a perfect marriage of style and simplicity to an open office layout design.These bi-fold partitions can change the look of your rooms every day and it's a perfect way to bring beauty and sophistication together.
Mobile glass partition screens have made it easier and quicker to install partitions and still have adesigned space that's to your taste and needs in an open layout office. They have redefined the way glass is used in office interiors while ensuring that the space stays both open and airy.
These come in different designs and offer great flexibility as they can be easily moved from one place to another. Not only are theyaesthetically pleasing in the office environment, they are functional, easy to install and require less structural modification. Mobile partition screens range from desk screens, coloured panels, S-partition walls and are cost effective, create privacy when made of frosted or colored glass and reduce noise levels. They are especially resourceful when managers want to divide different departments especially for companies who deal with multiple visitors.
Mobile glass partitions screens are not only functional but provide a sleek, modern look and feel to the office space. For example, a coloured glass panel works well as a small meeting room around the outside of your main workspace which will provide employees with a space for personal conversations, as well as creating spaces for private meetings to take place without interrupting the whole office. One can even add patterns and intricate designs to create a truly impeccable and innovative interior.
So it's clear to see that partitions still have a place in the modern office and glass has opened the doors to an evolving style that gives businesses the opportunities to have the best of both worlds – an open office with spaces to create privacy and thinking time.