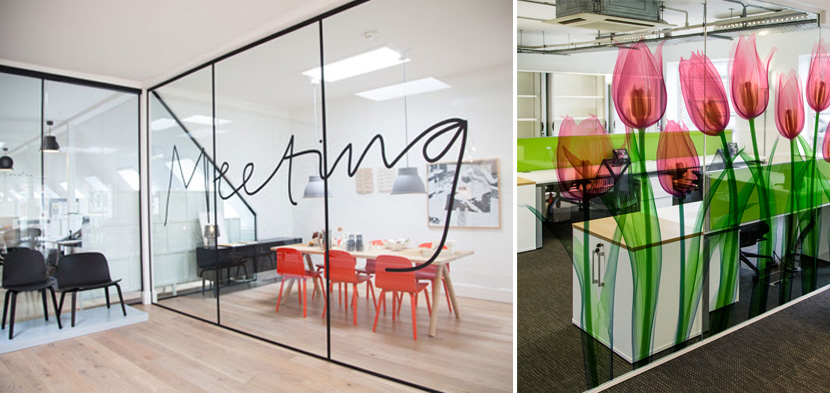 How to Improve Privacy and Team Morale in a Noisy Open Office Environment
 Smart organizations understand that a thoughtful workplace design is the primary goal and a powerful tool for supporting employee performance. In fact, studies reveal that design has a great impact on the way we work and behave, and workers are more likely to be creative if allowed access to spaces supporting private, semi-private and open-plan environments.
The "open office" concept, with one space and shared workstations is conceived as a way to increase collaboration, interaction and transparency. However, it creates the opposite of that as more employees long for a sense of privacy for better concentration without constant interruption from the rest of the office. There are different design options that inspire both function and modern aesthetics, which cater to employee privacy and team morale in an open office environment.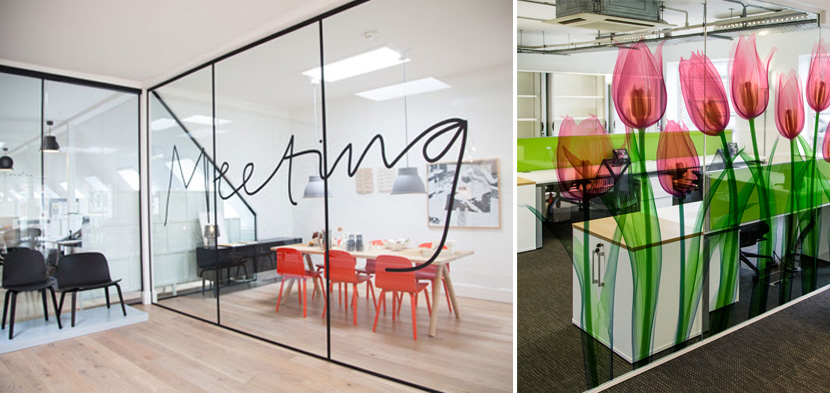 Image Credits : Privacy with Glass Partitions – Decor8blog  & East Style Home 

Every once in a while it's good to get away to a quiet place within your workspace. Partitions still have a place in the modern office environment and glass walls provide a level of privacy without creating a boxed in feeling. The use of glass partitions has the power to welcome in natural light, unobstructed views and unclutteredness. Natural light is known to aid happiness, energy and boosts morale, which leads to better performance. When glass partitions are installed in an open layout there is a feeling of openness, honesty and trust which is key in most organizations. At the same time, it allows for private meetings, clear free thinking and one is able to concentrate on the task at hand with less disruption.
Glass works well in any interior to communicate strength, a perfect marriage between modern and sleek, timeless and simplicity. Modern design styles allow you to select from variety of glass partitions that could be; frameless glass walls, foldable glass walls or sliding glass partitions.
For a truly impeccable and innovative interior, colour can definitely spice up the office. Instead of opting for a clear glass partition, select coloured glasses that resonate with your company's work culture and branding. Different colours can impact the way people think and feel, and knowing this, it is possible to influence employees using the right colours in the office design.
For example, green is linked to broader thinking and creative thoughts. It's also associated with growth and promotes feeling of balance as it's a colour of nature, which really leads to more productivity. Imagine what this cando to your employee's morale and performance.
Image Credits : Mobile Glass Partitioning Screens – Lasesign  & Sounds for Sights 
The overall space of your office should be dedicated to boosting imagination, teamwork and also a sense of privacy but not entire seclusion. Mobile glass partitioning screens have made it easier to create a clean layout and airy workspace.



Instead of sticking to one office environment with an open layout, we need a collage of environments, each tailored to the needs of different departments and individuals that will actually use them. Modern modular systems range from desk screens, coloured panels, S-partition walls and are easy to install with simple yet effective designs, combining privacy with playfulness.
For example, an S-partition works well as a small meeting room around the outside of the main workspace. Employees are effectively able to hold private meetings and personal conversations without any interruption. What's also incredible about mobile glass partition is the flexibility they offer. They are easy to move around in case of re-structuring. Alternatively, for desk screens you can opt for frosted glass which is an excellent choice because it doesn't block natural light and is extremely useful when working on computer monitors. Different designs can be applied to mobile glass partitions, for example – frosted decals can take the form of motivational catchphrases or company branding. A Glass panel can also function as a modern glass writing board.
Ideas become contagious leading to more collaboration and continuous brainstorm sessions. The overall use of mobile glass partition screams is one of both elegance and sophistication.
As you design your workplace, it is advisable to keep your company culture and employee needs in mind. Culture is such an important aspect of your business, and helps in engaging prospective clients while important in attracting motivation of the employee. Having a productive team that is content within their working environment affects performance greatly,not to mention team morale and greater frequency of the work-style behaviour. You want to continue to nurture your business culture and make it a forte through effective workplace design to generate commitment both to the goals and the organization.