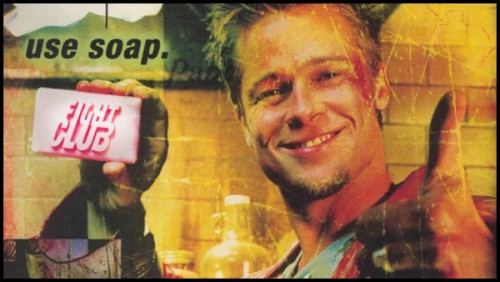 Fight Club (1999) – An out-of-control spiral toward oblivion
The Jist: An insomniac office worker looking for a way to change his life crosses paths with a devil-may-care soap maker and they form an underground fight club that evolves into something much, much more…
Director:
Stars:
 Storyline – A ticking-time-bomb insomniac and a slippery soap salesman channel primal male aggression into a shocking new form of therapy. Their concept catches on, with underground "fight clubs" forming in every town, until an eccentric gets in the way and ignites an out-of-control spiral toward oblivion.
All films take a certain suspension of disbelief. Fight Club takes perhaps more than others, but if you're willing to let yourself get caught up in the anarchy, this film, based on the novel by Chuck Palahniuk, is a modern-day morality play warning of the decay of society.
QUOTES –
Tyler Durden:
This is your life and it's ending one minute at a time.
Only after disaster can we be resurrected.
All right, if the applicant is young, tell him he's too young. Old, too old. Fat, too fat. If the applicant then waits for three days without food, shelter, or encouragement he may then enter and begin his training.
Listen up, maggots. You are not special. You are not a beautiful or unique snowflake. You're the same decaying organic matter as everything else.
Watch Trailer –
Info – www.imdb.com/
http://www.quotes.net/