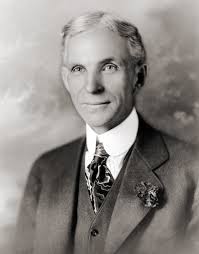 Henry Ford was an American industrialist, the founder of the Ford Motor Company, and sponsor of the development of the assembly line technique of mass production. He developed and manufactured the first automobile that many middle class Americans could afford to buy. His introduction of the Model T automobile revolutionized transportation and American industry.
As owner of the Ford Motor Company, he became one of the richest and best-known people in the world. He is credited with "Fordism": mass production of inexpensive goods coupled with high wages for workers. Ford had a global vision, with consumerism as the key to peace. His intense commitment to systematically lowering costs resulted in many technical and business innovations, including a franchise system that put dealerships throughout most of North America and in major cities on six continents.
Ford was also widely known for his pacifism during the first years of World War I, and also for being the publisher of antisemitic texts such as the book The International Jew.
The Phenomenal Labor philosophy
The five-dollar workday
Ford was a pioneer of "welfare capitalism", designed to improve the lot of his workers and especially to reduce the heavy turnover that had many departments hiring 300 men per year to fill 100 slots. Efficiency meant hiring and keeping the best workers.
Ford astonished the world in 1914 by offering a $5 per day wage ($110 today), which more than doubled the rate of most of his workers. A Cleveland, Ohio newspaper editorialized that the announcement "shot like a blinding rocket through the dark clouds of the present industrial depression." The move proved extremely profitable; instead of constant turnover of employees, the best mechanics in Detroit flocked to Ford, bringing their human capital and expertise, raising productivity, and lowering training costs!
Read More:
[References]
http://en.wikipedia.org/wiki/Henry_Ford