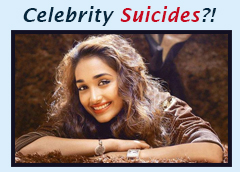 Why do celebrities commit suicide?!
Money and fame does not guarantee happiness and peace…on the contrary – it may mean developing suicidal tendencies! On one hand we witness, almost on a daily basis, youngsters leaving home and running away to tinsel town in order to become actors or actresses/ models and on the other hand we also hear unbelievable  facts when suddenly some celebrity is declared dead – esp. by way of suicide…or by way of some other unsolved mysterious incident!
When Indian celebrities commit suicide!
From what is most often considered as the one and only reason why people commit suicide – 'Depression'! Citing some examples from Bollywood:
Manmohan Desai
The director who was responsible for classics like Amar Akbar Anthony, Coolie, and Dharam Veer, was found dead after jumping off from his balcony. His acquaintances say that he was depressed due to his unsuccessful career, while others say that he was fed up of his back pain and therefore ended his life.
Guru Dutt
The very versatile director, actor and producer, who gave us classics like Pyaasa, Kaagaz Ke Phool, Sahib Bibi Aur Ghulam, and Chaudhvin Ka Chand was found dead due to an alcohol and sleeping pill overdose. Dutt was a victim of depression.
Parveen Babi
Parveen Babi was the first Indian actress to grace the Time Magazine cover. The actress was suffering from paranoid schizophrenia and was found dead in her Mumbai flat. Postmortem, the doctors speculated that she starved herself to death.
Jiah Khan
The 25-year-old actress, who made her debut with RGV's 'Nishabdh' – starring Amitabh Bachchan, was found hanging from her ceiling at her Juhu apartment on June 3, 2013. She even came with ace actor Aamir Khan in his film 'Gajani'! It's really amazing to see that someone who has access to such famous personalities should commit suicide! It must be a foul play.
Read Full Article – indiatimes.com