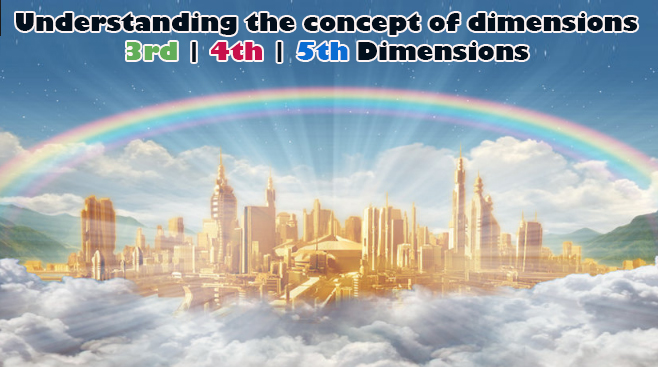 Understanding the concept of dimensions – 3rd | 4th | 5th Dimensions
Reading about the transition of humanity to higher dimensions, one may ask how can some such a thing happen suddenly!?
Yes, the question might arise:
How can this possibly happen?
How can this world turn around from where it is today and become this utopian kind of world?
 There is still so much darkness on the planet—wars, hatred, prejudice and injustice.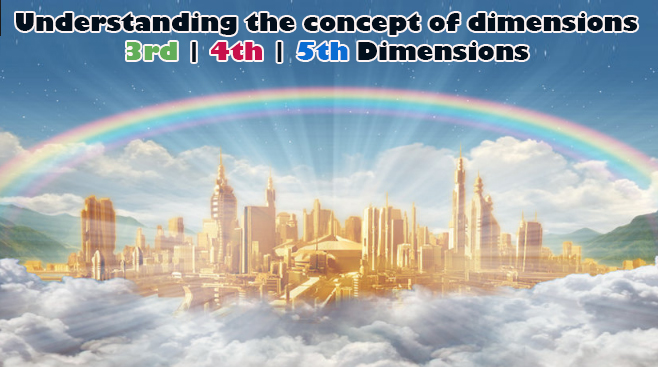 The answer is two-fold:
First, thousands of people on the planet are now experiencing an awakening of the heart at an unprecedented rate—and this awakening appears to be speeding up, as time goes by. At some point, the hundredth monkey phenomenon will inevitably take hold.
And secondly, not everyone on the planet at this time is making the choice (consciously or unconsciously) to make the shift into the Fifth Dimension.




All souls have the choice to enter 5D (FREE WILL remember?) , given they have assimilated sufficient light to hold the energy levels that exist in that higher vibration. But many will be choosing to leave the earth within the next couple of decades to move on to other third dimensional experiences in other parts of the universe. They will not have finished with what third-dimensional reality has still to teach them (your karmas play a vital role here).
Those who are choosing to stay and make the shift with the earth will be going through some intense and rapid changes, as their bodies and minds make the radical changes needed to shift into the higher consciousness requisite for moving into the Fifth Dimension.
Exactly What are Dimensions?
First of all, dimensions are not places or locations; they're levels of consciousness that vibrate at a certain rate. There exist numerous dimensions; the fourth and fifth are simply higher than the one we've been living in. Ascension into even higher dimensions will continue even after we've reached the fifth.
Each dimension vibrates at a higher rate than the one below. In each higher dimension, there exists a clearer, wider perspective of reality, a greater level of knowing. We experience more freedom, greater power, and more opportunity to create reality.




In order for a higher dimension to be available to us, we need to vibrate in resonance with it. Shifting from one level of consciousness to the next higher one means becoming established on it, so we don't get pulled back.
The Third Dimension
It's important to understand, first off, that the Third Dimension is not the things you see: the table, the tree, the earth. These are form. All things in form are still present in the Fourth Dimension (and to some degree in the 5th); they're simply more light-filled, not as dense.
The Third Dimension is a state of consciousness that is very limited and restricted. Because we've been living in this 3rd dimensional reality for so many lifetimes, we tend to assume that this is the only reality available to live in. We think this is simply how "reality" is, not realizing it's a very limited experience of reality.
The Third Dimensional "operating system" runs on rigid beliefs and a fairly inflexible set of rules and limitations. For example, in the Third Dimension, we learn to believe that bodies are solid; they can't merge with each other or walk through walls. Everything is subject to gravity, physical objects cannot disappear, and we cannot read another person's mind. There's a solid belief in duality, and judgment and fear are pervasive.
The Fourth Dimension
This is the "bridge" we're all pretty much on now, and will be for a relatively short period of time. In traveling through the Fourth Dimension, we are preparing ourselves for the Fifth.
Many of us have had experiences of the Fourth Dimension for a number of years now without realizing it.
We can know we're experiencing the Fourth Dimension when we have moments of spiritual awakening and experiences of heart opening. Other times, it can happen when we're simply feeling clear and quiet inside. Everything within and around us feels lighter, less rigid. There's a sense of spaciousness and upliftment.
Time is no longer linear in the Fourth Dimension—there's an ongoing sense of being in present time, with no interest or even awareness of past and future. And we can discover that time is malleable—it can actually stretch and condense, much to our third dimensional surprise.




Manifestation is much faster in the Fourth Dimension. Something we simply think about can show up very quickly. In general, when we're experiencing joy, love and gratitude, we're experiencing fourth dimensional consciousness.
The Fifth Dimension
The Fifth Dimension has been described as the dimension of Love, of living totally from the Heart.
In order to enter into the Fifth Dimension and stay there, all mental and emotional baggage must be left at the door. No fear, anger, hostility, guilt exists there—no suffering or sense of separation. Mastery over thought is a prerequisite.
Manifestation in the Fifth Dimension is instantaneous. You think about something—it comes present. People generally communicate through telepathy and have the ability to read each other's thoughts and feelings with ease. The experience of time is radically different: some describe it as "everything happening at once." There is no distinction between past, present or future.
Many of us are having experiences (or "dreams") that feel like visits to the Fifth Dimension. These are exhilarating—tremendously exciting and hopeful. They keep us moving on through the difficulties that sometimes arise as we travel through the Fourth Dimension and into the Fifth.
Read entire article – ourshiftingperspective.com