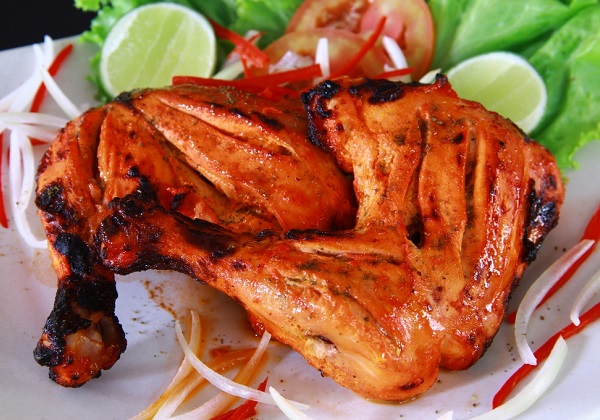 Imagine a plate full of roasted chicken pieces prepared with spices and yogurt! Traditionally, these chicken pieces are first marinated with the ingredients, and then cooked inside a tandoor (clay oven) at high temperatures. And thus, the dish gets its name – Tandoori Chicken.
Let's talk about the origin of this dish. I've heard some people mention that Tandoori Chicken is as old as the beloved Biryani. It should, however, be noted that while Biryani is said to have originated in the Mughal era, Tandoori Chicken is the product of mid-20th century India. During the 1920s, Kundan Lal Gujral opened a restaurant in Peshawar named 'Moti Mahal'. He soon realized that in order to excel, he needs to introduce innovative extensions in the menu. With the purpose of providing cheap yet nutritious foods for the refugees during the partition period, he decided to experiment by cooking marinated chicken pieces inside a clay oven. At the bottom of the oven were layers of charcoal, and the clay wall of the oven was lined with brick insulation. The oven was first fired till it reached a temperature of around 900˚F, and then the marinated chicken pieces were placed inside it to cook.
The result was beyond belief. The outer surface of the pieces were burnt and crispy, while the insides were well-cooked, juicy and moist. The highlight was the deep smokey roasted flavor which the pieces were imbued with. And the rest, as it's said – is history.
The news of the arrival of a delicious chicken dish in the market spread like wild fire. Not only the common people, tandoori chicken of Moti Mahal became a favorite of the first Prime Minister of India, Pt. Jawaharlal Nehru. Even foreign dignitaries like Jacqueline Kennedy and Nina Khrushchev adored this dish when they visited India. Soon, its popularity spread outside the country; and tandoori chicken found its place in the menu of popular high-end restaurants across the globe.
Normally, tandoori chicken is eaten before a meal as a starter. But if given a chance, I'll love to choose this dish as the only item in the main course too. And I'm sure that I'm not the only one who harbors a wish like this. Trust me, this wonder is really that damn good!