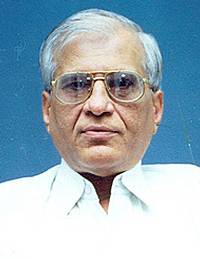 His day begins – 
His day begins at 6.30 in the morning and continues well past midnight. Oncologist Dr Suresh Advani visits three hospitals and a voluntary organization in Mumbai, gives online consultation, attends and holds seminars, read medical journals and writes research papers – he has contributed to around 500 national and international publications. The pioneer of bone marrow transplant in India, he was awarded the Dhanvantri Award in 2002 and the Padmashri in 2003 for his contribution in the field of scientific research in medical oncology, the study of tumors. The 58-year-old is always on the go – only his "way of reaching destinations" is his wheel chair. Dr. Suresh Advani been wheelchair-bound ever since he suffered an attack of polio aged 8. But nothing could stop him from being a healer !
Dr Suresh Advani, Director of Medical Oncology, Jaslok Hospital & Research Centre, Chief Medical Oncologist, Asian Institute of Oncology, Mumbai, India.
Breaking the Ceiling
For Advani, one of India's best oncologists who recently won the Padma Bhushan, the country's third-highest civilian award, battling odds wasn't anything new. Back in 1965, after finishing school — at that time it was the inter-college degree — he applied for admission to medicine at Grant Medical College, but was rejected. They didn't want a "crippled" person.
But he wasn't ready to give up: he wrote to the hospital authorities, ministers and others, requesting their intervention. Finally, Grant Medical College relented and he went on to pursue an MBBS as a day scholar. He had a person to help him get onto the wheelchair and he often took a cab to his parents' home in the Mumbai suburb of Ghatkopar, where he continues to live even now.
Mumbai-based veteran physician Dr Gurumukh Sainani, himself a Padma Shri awardee and who had taught Advani at Grant Medical College, recalls how the "young boy" used his powers of persuasion to convince the dean of the college to admit him to the MBBS course. "He may have had physical problems. But his mind is extremely fertile," he says, adding that he had lost count of the distinctions and awards Advani won as a student. "My colleagues and teachers were all very helpful. I never had any difficulty in my student days," says Advani.
References:
http://www.harmonyindia.org/hportal/VirtualPageView.jsp?page_id=604
http://economictimes.indiatimes.com/meet-dr-suresh-advani-indias-first-and-best-known-oncologist/articleshow/21245370.cms