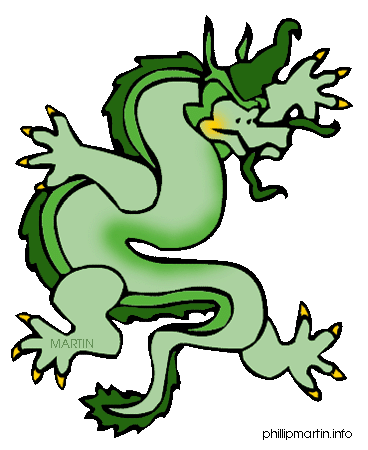 Dragon Personality Traits
Occupying the 5th position in the Chinese Zodiac, the Dragon is the mightiest of the signs. Dragons symbolize such character traits as dominance and ambition. Dragons prefer to live by their own rules and if left on their own, are usually successful. They're driven, unafraid of challenges, and willing to take risks. They're passionate in all they do and they do things in grand fashion. Unfortunately, this passion and enthusiasm can leave Dragons feeling exhausted and interestingly, unfulfilled. While Dragons frequently help others, rarely will they ask for help.
Others are attracted to Dragons, especially their colorful personalities, but deep down, Dragons prefer to be alone. Perhaps that is because they're most successful when working alone. Their preference to be alone can come across as arrogance or conceitedness, but these qualities aren't applicable. Dragons have tempers that can flare fast!
Not shy in the least about going after what they want, Dragons can be their own worst enemies. Aggressive to the point of tyrannical, they may sometimes be heard running off at the mouth without thinking.
However, after having made a foolhardy decision, Dragon people often recover quickly and continue to follow their hearts' desire with dauntless determination.
You are a Dragon if you are born in the period as shown below:
| | | |
| --- | --- | --- |
| 02/03/1916 To 01/22/1917 | 01/23/1928 To 02/09/1929 | 02/09/1940 To 01/26/1941 |
| 01/27/1952 To 02/13/1953 | 02/13/1964 To 02/01/1965 | 01/31/1976 To 02/17/1977 |
| 02/17/1988 To 02/05/1989 | 02/05/2000 To 01/23/2001 | 01/23/2012 To 02/09/2013 |
| 02/10/2024 To 01/25/2025 | 01/28/2036 To 02/14/2037 | 02/14/2048 To 02/01/2049 |
Suitable career for Dragons:
Dragons prefer leading to being led. Jobs that allow them to express their creativity are good choices. Some good careers include: inventor, manager, computer analyst, lawyer, engineer, architect, broker, and sales person.
Gifted with innate courage, tenacity and intelligence, those born under this sign are most often a shining success at whatever field they choose.
Dragon Relationships:
Dragons will give into enjoyment, but won't give up their independence. Since they've rapid, often vengeful tempers, their partners need to be tough-skinned. Dragons enjoy other individuals that are intriguing, and when they locate the best partners, they'll generally commit to that person for life. Enslaved by the Dragon's irresistible energy, the victims come to him/her willingly.
Blackmail has no effect on a Dragon. So that you can seduce a Dragon, you have to show fascination for him and his generous deeds, to admire him really considerably and to let him believe that you simply are a fragile particular person, entirely dominated by his character.
Dragons are most compatible with : Rat, Snake, Monkey, Rooster
Famous people born in the Year of the Dragon: Joan of Arc, Susan B. Anthony, Florence Nightingale, Sigmund Freud, Mae West, John Lennon, Bruce Lee, Keanu Reeves, Orlando Bloom, Colin Farrell, and Sandra Bullock.
Browse the calendar to find your birth year and more about your Chinese zodiac sign :
| | | | | | | | | |
| --- | --- | --- | --- | --- | --- | --- | --- | --- |
| Rat | 1924 | 1936 | 1948 | 1960 | 1972 | 1984 | 1996 | 2008 |
| Ox | 1925 | 1937 | 1949 | 1961 | 1973 | 1985 | 1997 | 2009 |
| Tiger | 1926 | 1938 | 1950 | 1962 | 1974 | 1986 | 1998 | 2010 |
| Rabbit | 1927 | 1939 | 1951 | 1963 | 1975 | 1987 | 1999 | 2011 |
| Dragon | 1928 | 1940 | 1952 | 1964 | 1976 | 1988 | 2000 | 2012 |
| Snake | 1929 | 1941 | 1953 | 1965 | 1977 | 1989 | 2001 | 2013 |
| Horse | 1930 | 1942 | 1954 | 1966 | 1978 | 1990 | 2002 | 2014 |
| Sheep | 1931 | 1943 | 1955 | 1967 | 1979 | 1991 | 2003 | 2015 |
| Monkey | 1932 | 1944 | 1956 | 1968 | 1980 | 1992 | 2004 | 2016 |
| Rooster | 1933 | 1945 | 1957 | 1969 | 1981 | 1993 | 2005 | 2017 |
| Dog | 1934 | 1946 | 1958 | 1970 | 1982 | 1994 | 2006 | 2018 |
| Pig | 1935 | 1947 | 1959 | 1971 | 1983 | 1995 | 2007 | 2019 |
 Information Source:
www.springwatercantonese.com
www.chiff.com
www.hanban.com